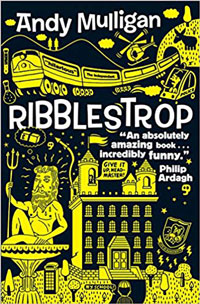 RIBBLESTROP is part one of a trilogy, involving three terms at a highly unusual school. Don't expect magic and 'Hogwarts': any elf walking these corridors would get unceremoniously stamped on.
We encounter roofless dormitories, distracted teachers and a lethally dangerous maze of dark, disturbing cellars. Ribblestrop's visionary headmaster is out of his depth, and that's before the pupils arrive. All he wants is to build a school where children can learn about the wonders of our dangerous, untamed world. When the kids do appear, they're an unusual mix.
We meet Sanchez, a Colombian gangster's son who's hiding from kidnappers; Millie is an excluded arsonist. Casper is the spoiled grandson of the school's psychotic land-lady, who never wanted a school on her premises in the first place, and was hoping for a nursing home. There's also the helpful but hapless Sam and his best friend Ruskin, plus a coach-load of endlessly resourceful orphans from overseas, who are just happy to have beds. Anything can happen - and anything does.
Andy says, 'It was my first book, and it took several years to bash into shape. The publishers worked hard to tone it down, and the first few drafts were horribly violent. It's a more restrained story now. It starts slowly enough, on the train west, from London. Then it's one accident after another, and we're de-railed totally.
The children have to build their own school. They have to help their teachers teach, whilst trying to work out why there's a very secret operating-theatre down in the basement. Oh, and there's a monstrously corrupt policeman, too.'
Ribblestrop has the strangest children in the strangest situations – this is comedy-horror-action-suspense-school-fiction at its most bizarre. And there's some football.
RIBBLESTROP is published by Simon and Schuster, and is available at all good bookshops, or through the usual on-line stores.