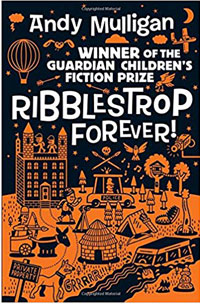 ...the close of the trilogy...
'I always conceived the series as a three-term affair,' says Andy, 'and I had a very strong vision for the final chapter: I wanted the place to teeter on the edge of closure, but finally flourish. The heroes have come a long way, and enjoyed themselves so much. Against all the odds, they have a school, and whilst they've never had a time-table or bell...they've had an education to die for. I guess they have nearly died in getting it, too.'
So, yes, it's another fast, furious, dangerous book with a host of new characters. Doctor Ellie is a runaway librarian, who couldn't stand to see her mobile-library van scrapped, and the books pulped – she meets the children at an early stage, and they virtually kidnap her.
They help her with her research project: she's looking for the lost tribe of Ribblemoor, so that leads to living history. 'The children's knowledge of history is non-existent,' says Andy. 'But they're hungry to learn. Soon, they're recreating not just the ancient Celtic camps, but the great trek of the tribe, and they're all on their way to the heart of what makes Ribblestrop so special. There are ghosts. There are chariots, and man-traps – and for the last time there's the corrupt police-officer, Cuthbertson, who's as determined as ever to close the place down.'
Does he succeed?
'I don't want to give away the ending, but let's just say I found it impossible to destroy indestructible children. They're inspirational – how could Millie, Miles and Sanchez not survive? It is the last book, for sure, but the school lives on and it was a joy to write. I put the last full stop on the last page and sang the Ribblestrop song loudly, hand on heart.'
RIBBLESTROP, FOREVER! is published by Simon and Schuster, and is available at all good bookshops, or through the usual on-line stores.